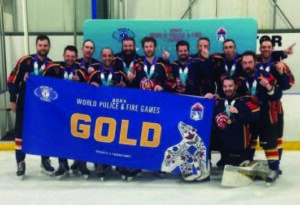 Held every two years, the World Police and Fire Games (WPFG) stands as an Olympic-style event that brings together over 8,500 participants hailing from law enforcement, firefighting, and police professions. These dedicated athletes represent over 50 nations worldwide and compete in a diverse range of over 60 unique sports. The first WPFG were held in 1985 in San Jose, California. Since its inception, this event has been hosted multiple times in the United States and Canada, but host countries have also included Australia, China, Northern Ireland, Spain, and Sweden.
The 2023 WPFG were held in Winnipeg, Manitoba, from July 28 – August 6.
Cst. Declan Treichel, a member of the Swan Hills RCMP detachment, received an email in early January inviting him to join a hockey team comprised entirely of Alberta members to compete in the 2023 WPFG. Treichel was known to the organizers of this team from his strong performance as a goalie last year in the Red Coats Tournament, an annual hockey tournament for Alberta RCMP officers. The Red Coats Tournament is held in different communities every year; last year's event was held in Lac La Biche.
The Alberta team's organizers struggled to find enough members, ending up with the bare minimum of 12 players to form a team. Treichel explains that most of the other teams at the games had three full lines of players, at least 15 -16 people. The new team was dubbed the Alberta Rockies.
While the players paid for most of their expenses to attend the WPFG out of pocket, they were very appreciative to receive some support through sponsorships from Red Tunic Insurance and Delta Inspections.
Treichel reports that the Rockies played four games in the round-robin tournament leading up to the final game against the Manitoba Bisons, a team comprised of RCMP officers and firefighters from that province. The Rockies went into the third period with a 3 – 2 lead, which they were able to maintain through 5 straight power plays before scoring an additional goal to take the gold medal with a final score of 4 – 2.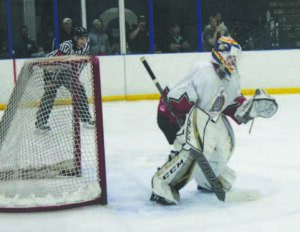 When asked about his overall experience at the WPFG, Treichel said, "They did a really good job of making the whole games feel professional and gave you almost that Olympic-type atmosphere. Every single sport I went to go watch, they were always done professionally. The signs were up, and there were always big crowds. Winnipeg was a great host."
Congratulations to Cst. Treichel and the rest of the Alberta Rockies for bringing home the gold!