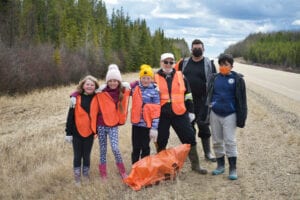 There was an excellent turnout for the highway cleanup in Swan Hills on Saturday, May 1. A group of 35 Swan Hills volunteers, including principal Slade Sekulich and students from the Swan Hills School and other members of the community, worked together to tackle the 52 km stretch of Highway 33 that had been assigned to the school by Alberta Transportation.
The volunteers met up at Subway on Saturday morning to get organized, sign in, and get their supplies. The participants were assigned to vehicles with an adult supervisor/driver, and then each participant received a bright orange safety vest and a pair of gloves. Each vehicle received a Highway Cleanup sign to post while the work was being completed and a supply of garbage bags.
Each participant, including the adult supervisors, was to have watched a short video from Alberta Transportation before the event on Saturday that outlined the rules and guidelines in place to ensure everyone's safety.
TJ Linger, a teacher from Swan Hills School and organizer of this event, had already divided the 52 km stretch of highway into two km sections using wooden stakes marked with brightly covered ribbons. Each group found a section and removed the ribbon from the marker so that the other groups would know that the area had been worked on. The group then worked their way down the side of the highway, picking up trash until they reached the next marker. Then the group crossed the highway when it was safe to do so and worked their way along the other side, back to where their vehicle was waiting at the starting point.
When a group filled up a garbage bag, they tied it off and left it beside the pavement. Alberta Transport had workers patrolling the area, picking up the filled garbage bags and providing assistance to the volunteers.
It was a successful day, with 35 volunteers putting in 151.5 total working hours. The group cleaned 34 km of highway, earning $3,400 for the school and translating to $22.44/hour for the volunteers. The funds earned by the students' parents will be deposited into the student's school bank accounts. It was a great community effort to beautify our little corner of Alberta.
Thank you to all of the Highway Cleanup volunteers and to TJ Linger, Brenda Kuyek, and Shelley Witwer from Swan Hills School for organizing this event.