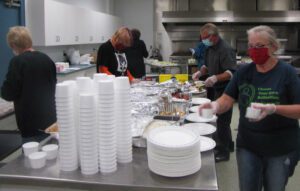 Less than 24 hours before their event hosts were to start welcoming registered guests, organizers of "A Taste of Swan Hills" were hit with new COVID restrictions. Determined not to cancel the event, the Swan Hills Hospital Foundation quickly regrouped and pulled off a drive-by event.
Foundation members reached out to local vendors with their plans. Registrants received both an email and phone call from volunteers to update the event procedures.
Recognizing local restaurants and deli's have been hit hard by COVID restrictions and closures and most already started to prepare their culinary treats; the Foundation decided to proceed with the event, requesting registrants "drive by" the Keyano Centre and pick up their meals. Local vendors began delivering their dishes at 4:30 pm and by 9 pm volunteers had sanitized and set up food stations, sorted entrees, portioned, dished out, wrapped up and delivered over 140 meals to the waiting residents.
Emails and Facebook posts began appearing almost immediately as one Facebook user posted: "Thank you so much for the yummy treats and a big Thank You to the facilitators ,volunteers and businesses who prepared the food for this event . We have such a diverse collection of nationalities in our community. Great job ♡"
"Thanks to our local food establishments who provided a great sampling of their cultural delicacies, to our amazing volunteers who worked so hard and all the residents who registered and were ready to celebrate Cultural Days and the Hospital Foundation's donors who have generously supported us." Said Hospital Foundation President Joyce Comeau. "It didn't turn out as we had planned but under the circumstances, we are pleased."
On the menu was: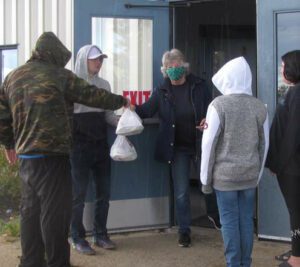 Burger Baron Swan Hills – gourmet pizza and the creamy dessert with pralines.
Swan Hills Super A – Irish Stew
Newcastle Confectionery – Spring Rolls and chocolate cookies dusted in powdered sugar
Swan Palace – Empanadas
Golf Club Kitchen – German Potato Salad, Sausage in tomatoes and Pierogies in creamy bacon sauce
Sammy's Restaurant – Butter Chicken with Rice and Naan, tossed salad.