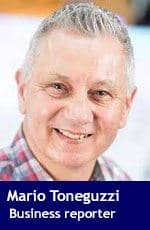 A new report released Tuesday by Statistics Canada says Canadian businesses are becoming more innovative.
The federal agency said the number of innovative enterprises increased 12.5 points to 79.3 per cent in 2015-2017, up from 66.8 per cent in 2007-2009 and 63.5 per cent in 2010-2012.
"This greater propensity to innovate by Canadian businesses may reflect the availability of affordable and accessible technological solutions," it said.
"The innovation rate was highest among large (85.9 per cent) and medium-sized (83.5 per cent) enterprises in 2015-2017, compared with 78.3 per cent for small enterprises. In terms of change from an earlier period, the largest movement was among medium-sized enterprises, where rates increased 23.4 percentage points from 2010-2012."
It said all industry sectors surveyed in both 2010-2012 and 2015-2017 showed notable increases in the overall share of innovative enterprises at the Canada level.
"Information and cultural industries (87.2 per cent) continued to rank high in 2015-2017, as did professional, scientific and technical services (87.0 per cent) and finance and insurance excluding monetary authorities (86.6 per cent)," explained the federal agency.
"Wholesale trade reported the biggest movement, increasing its proportion of innovative enterprises from 56.7 per cent to 85.1 per cent. Even in the industry sector with the lowest incidence of innovation in 2015-2017 – management of companies and enterprises – more than half of the enterprises were innovative."
StatsCan said the increase in the percentage of enterprises that innovated was evident in all four types of innovation – product, process, organizational and marketing.
"Organizational innovation – the introduction of new methods in business practices, workspace organization or external relations with other organizations – remained the most prevalent of innovation types (59.5 per cent) in 2015-2017, increasing from 37.9 per cent in 2010-2012," it said. "Marketing innovation – the use of new media or techniques for promotion, new methods of product placement or pricing, or changes to aesthetic design or packaging – ranked second, with rates rising from 33.3 per cent in 2010-2012 to 54.4 per cent in 2015-2017.
"The highest increase over the two periods occurred in process innovation, which is the implementation of new or significantly improved production processes, distribution and delivery methods or support activities for goods or services. Process innovation rose from 29.0 per cent in 2010-2012 to 52.7 per cent in 2015-2017. The share of enterprises that implemented product innovation—the introduction of new or significantly improved goods or services on the market – changed the least, but still increased from 35.1 per cent to 52.7 per cent over the two periods."
Mario Toneguzzi is a veteran Calgary-based journalist who worked for 35 years for the Calgary Herald, including 12 years as a senior business writer.
---

The views, opinions and positions expressed by columnists and contributors are the author's alone. They do not inherently or expressly reflect the views, opinions and/or positions of our publication.