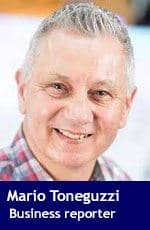 Investors remain enthusiastic about Canada's commercial property market, despite uncertainty surrounding rising interest rates, the lateness of the investment cycle and – in particular – scarcity of available product to meet insatiable demand, says a new report by commercial real estate firm Avison Young.
Canada is still viewed globally as a safe haven, given the country's stable economic and political climate, and sound property market fundamentals, said Avison Young's Fall 2018 North America and Europe Commercial Real Estate Investment Review, which was released on Wednesday.
"Canadian and international investors continue to view the country in a favourable light," said Bill Argeropoulos, principal and practice leader for research (Canada) at Avison Young. "Toronto and Vancouver remain the primary destinations for investor capital, but investment was relatively evenly distributed among the asset classes nationwide in first-half 2018. In fact, Toronto is in good company among North America's major markets – the only Canadian market to crack the top 10.
"Among the top five transactions by dollar volume in each of the six major Canadian markets, office building sales outnumbered all other asset types as investors paid top dollar for these prized properties. … The first half of 2018 was notable not only for direct investment in commercial real estate assets, but also multibillion-dollar M&A )mergers and acquisitions) activity in the industry, with headline transactions including Choice Properties REIT's purchase of CREIT and Blackstone's acquisition of PIRET. At the same time, Canadian capital continued to flow into the U.S. as trade-agreement negotiations and political uncertainty did not dampen investors' interest in assets south of the border."
The report's key highlights include:
After pouring a record $36.2 billion into commercial real estate assets (office, industrial, retail, multi-family and ICI land worth $1 million or more) across Canada's six major markets (Vancouver, Calgary, Edmonton, Toronto, Ottawa and Montreal) in 2017, investors placed another $17.7 billion in first-half 2018 – down a modest $1.3 billion, or seven per cent, from the first half of 2017. Though office was the most sought-after asset type among investors, retail, ICI land and industrial were not far behind.

Toronto, the top investment location ($8.2 billion/46 per cent share), outstripped Vancouver ($5.1 billion/29 per cent share) from one year earlier as the two markets combined for three-quarters of total first-half 2018 dollar volume. Toronto attracted the most capital in four of the five sectors, placing second to Vancouver only in retail asset sales. Apart from in Toronto and Ottawa, property sales in all markets declined by varying degrees year-over-year.

Office was the most desired asset class, securing one-quarter, or $4.5 billion, of investor capital, but sales declined 16 per cent year-over-year. Toronto was the only market to register year-over-year sales growth (+35 per cent) as it garnered $2.7 billion (60 per cent of first-half 2018 office dollar volume) in sales – more than the other five markets combined, and almost triple Vancouver's $1.1-billion performance.

Coming off a record $9-billion performance in 2017, retail posted $3.9 billion (22 per cent share) in first-half 2018 sales – a decrease of 25 per cent year over year. As in first-half 2017, investors favoured retail properties mostly in Vancouver ($1.7 billion) and Toronto ($1.3 billion) as these two markets combined for 78 per cent of total retail investment in the first half of 2018.

ICI land was in high demand. In all, $3.8 billion worth of land parcels changed hands in the first half of the year – the only sector to post notable year-over-year growth in sales (+82 per cent). The land sector was exceptionally hot in Toronto and Vancouver as annual sales in each market nearly doubled to $1.8 billion and $1 billion, respectively.

The value of industrial acquisitions inched up one per cent year over year to $3.3 billion at the midway point of 2018.

Accounting for only 13 per cent of the total first-half 2018 investment tally, multi-family property sales dropped 28 per cent to $2.3 billion from $3.2 billion one year earlier.
Mario Toneguzzi is a veteran Calgary-based journalist who worked for 35 years for the Calgary Herald, including 12 years as a senior business writer.
---

The views, opinions and positions expressed by columnists and contributors are the author's alone. They do not inherently or expressly reflect the views, opinions and/or positions of our publication.