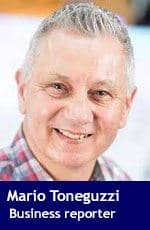 The Haskayne School of Business at the University of Calgary is launching a management program to help non-business graduates jump-start their careers.
The Haskayne Master of Management provides an immersive 10-month experience in solving business problems with students gaining knowledge in accounting, finance, human resources, marketing, operations, strategy and entrepreneurship along the way.
The school said the first group starts in May 2019 with applications open now.
"We have heard from employers and they want graduates who understand business factors in making organizational decisions," said Dr. Jim Dewald, PhD, dean of Haskayne School of Business, in a news release. "And we have heard from new grads who want to gain business skills to set them apart in their early career. The Master of Management answers these needs.
"With the launch of the Master of Management we offer a full complement of business education – no matter where you are in your career."
The Haskayne School said the Master of Management is targeted to recent non-business graduates with no more than two years of work experience – with applicants either entering directly from their degree or soon after. The coursework is graduate-level study and students will be expected to take their research and problem skills they have developed in the previous years and put them to work. In contrast, the MBA program draws on previous work experience, allowing for more advanced learning and in-depth leadership development over the longer duration of the program, it said.
"Regardless of your passion from archeology to zoology, the Haskayne Master of Management builds upon your knowledge with business skills that help you achieve your professional goals," said Catherine Heggerud, director of Haskayne Master of Management, in a news release. "As the students tackle business cases and capstone projects, I look forward to the innovative ideas that will be generated by the variety of diverse backgrounds."
Information sessions about the program are being held on:
Tuesday, Oct. 16, 2018, noon to 1 p.m., University of Calgary Main Campus, RGO Room (SH 465)

Wednesday, Nov. 21, 2018, 5:30 to 7 p.m., University of Calgary Downtown Campus, Room 626

Thursday, Jan. 17, 2019, noon to 1 p.m., University of Calgary Main Campus, RGO Room (SH 465)

Wednesday, Feb. 13, 2019, 5:30 to 7 p.m., University of Calgary Downtown Campus, Room 626
Mario Toneguzzi is a veteran Calgary-based journalist who worked for 35 years for the Calgary Herald, including 12 years as a senior business writer.
---

The views, opinions and positions expressed by columnists and contributors are the author's alone. They do not inherently or expressly reflect the views, opinions and/or positions of our publication.